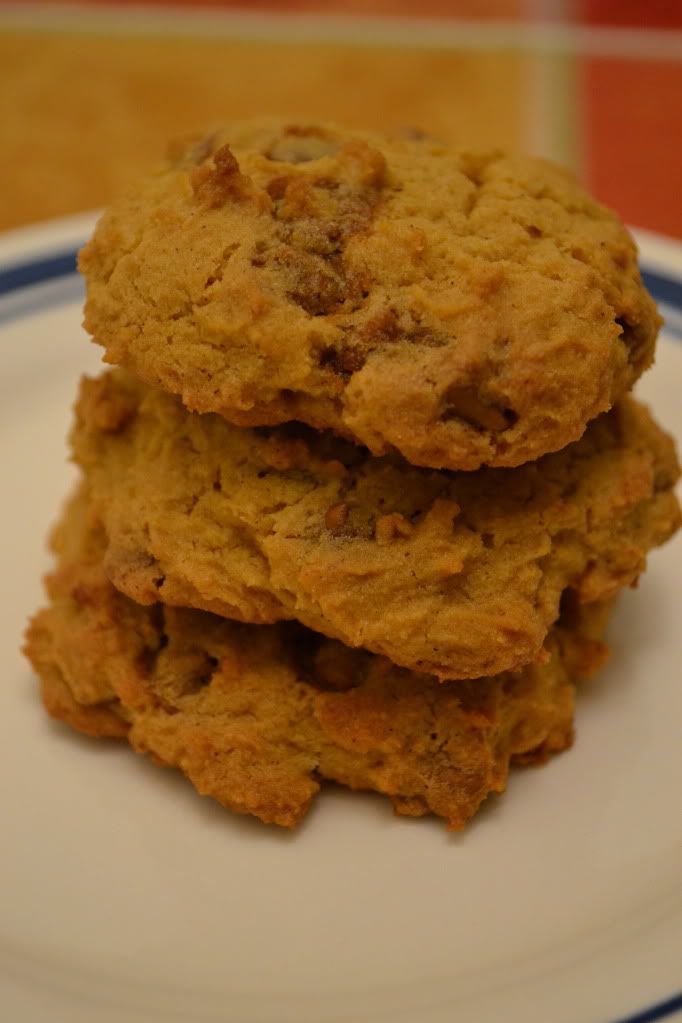 Hope you all have had a wonderful holiday season! I've got a few treats in store including the news that I now have a blog-worthy DSLR camera to capture all my memorable moments.
For Christmas Day this year, we managed to make some pretty amazing and somewhat healthy (cough, cough) cookies that were both gluten-free and DELICIOUS. They're very cake-y and moist and stay that way for days on end! The pumpkin flavor isn't too overpowering either. I mixed cinnamon chips in half the batch, chocolate chunks from Ghiradelli in another. Om nom, indeed.
Here's the recipe if you guys want to make these- I've adapted it slightly from this one at All Recipes and it can be made gluten-free or with regular wheat flour. I didn't make the icing glaze- it didn't need it!
Another great thing to note- these cookie did not spread when I baked them! So feel free to shape em how you please and they won't get all thin and run into one another all sloppy like.
Happy Baking!
2 1/2 cups all-purpose flour
(or gluten-free flour mix that has xantham gum in it)

1 teaspoon baking powder

1 teaspoon baking soda

2 teaspoons ground cinnamon

1 teaspoon pumpkin pie spice


1/2 teaspoon salt

1/2 cup butter, softened

3/4 cup white sugar

3/4 cup brown sugar




| | |
| --- | --- |
| 1. | Preheat oven to 350 degrees F (175 degrees C). Combine flour, baking powder, baking soda, cinnamon, spice, and salt; set aside. |
| 2. | In a medium bowl, cream together the 1/2 cup of butter and white sugar. Add pumpkin, egg, and 1 teaspoon vanilla to butter mixture, and beat until creamy. Mix in dry ingredients. Drop on cookie sheet by tablespoonfuls; flatten slightly. |
| 3. | Bake for 15 to 20 minutes in the preheated oven. Cool cookies, then drizzle glaze with fork. |

1 cup canned pumpkin puree

1 egg

1 teaspoon vanilla extract

3/4 cup of cinnamon chips or chocolate chips (your choice or mix-it-up!)